Disclosure: This blog post may contain affiliate links. The Tutor Resource is a participant in the Amazon Services LLC Associates Program as well as other affiliate programs. These are designed to provide a means for us to earn fees by linking to Amazon and affiliated sites at no extra cost to you. Please see our full disclosure for more details.
17 Jobs Teachers Can Do Other Than Teach in 2023
Ever considered how to leverage your teaching expertise outside the classroom? You came to the right place!
Your skills can still lead to some of the best jobs for teachers who don't want to teach that you've never even considered.
At the Tutor Resource, we've been teaching for years in a variety of capacities from the classroom and corporate training to online tutoring and remote teaching.
In this article, we'll discuss unexplored second careers for teachers that may align with your skill set.
It delves into alternative jobs for teachers within the educational sector beyond traditional classroom teaching and a wide range of online-based opportunities.
Plus, we'll cover jobs for teachers leaving the classroom in the corporate world that highly value your capabilities, and unconventional fields where your teaching skills can be invaluable.
Stay tuned to discover how you can leverage your transferable skills and forge a new professional trajectory for non teaching jobs for teachers.
Online Jobs Teachers Can Do Other Than Teach
In this digital age, teachers aren't confined to the four walls of a classroom. The internet and advanced technology have expanded the boundaries of what teachers can do and where they can do it.
There's a vast array of roles available online where teachers leaving school jobs can utilize their skills and reach an even wider audience.
1. Blogger
In an age where information is vital, sharing knowledge and ideas is easier than ever. A blogger educates, informs, and inspires their readers through engaging and informative content.
As a teacher, you've mastered the art of conveying complex concepts in easy-to-understand terms, making you an ideal blogger.
Teachers can leverage their writing skills and subject knowledge to create engaging and informative blog posts.
This can be done either for educational companies or on any topic you're passionate about for your own personal blog (which you can monetize!).
Blogger Advantages: With consistent effort and quality content, you can attract a large audience and monetize your blog, creating a substantial passive income stream.
👉 We recommend this amazing SEO course for bloggers. It's not just for travel writers either!
2. Online Tutor
Teachers are ideal to offer their skills in a tutoring capacity, thanks to their expert knowledge and vast experience in communicating complex concepts.
The platform is irrelevant; whether in a classroom or online, teaching remains fairly consistent. And online tutoring isn't only subject-specific.
Teachers can provide support for everything from standardized test preparation to general homework help. The difference is that everything happens virtually, decreasing travel time and other costs associated with in-person tutoring.
Online Tutor Advantages: It allows flexible working hours and the ability to work from home, perfect for individuals seeking to balance their workload.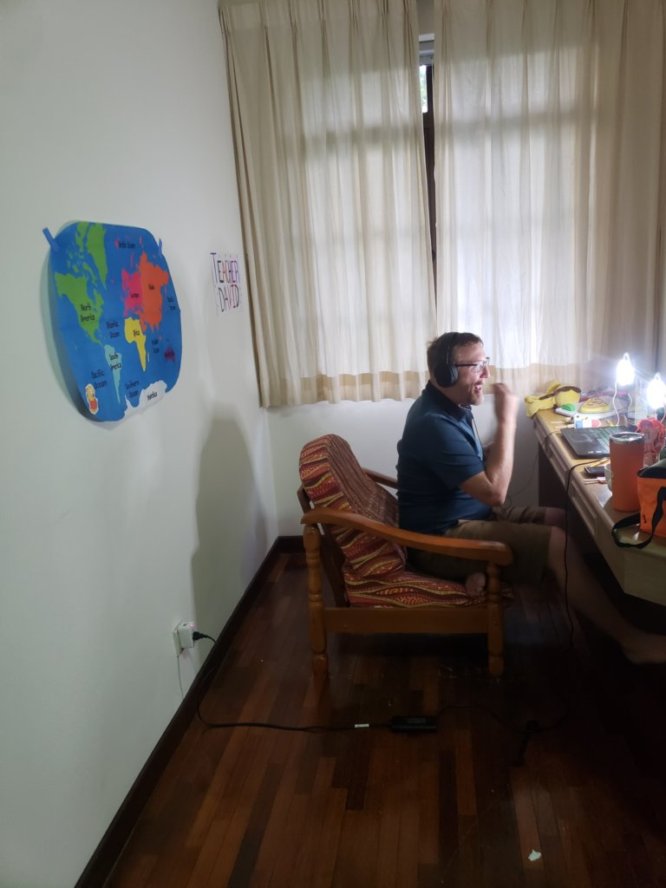 3. Online Language Teacher
Do you speak another language? Good news: your proficiency can open new career opportunities as an Online Language Teacher. Depending on your school's educational policy, you may even be able to do this while still being a teacher!
It's an excellent way to share your language skills globally and can be an incredibly rewarding experience. It's not just for people looking to teach English online either. You can teach any language online, from Spanish to Thai!
Teaching languages online provides the flexibility of setting your schedule and choosing your clients, and online platforms like Preply and iTalki can make finding students easy.
Online Language Teacher Advantages: It gives the opportunity to connect with individuals from around the world, fostering a community of learners who appreciate your skillset.
These are only a few examples of jobs that teachers can do online by utilizing the transferable skills developed through teaching.
Education Sector Jobs Beyond Classroom Teaching
Often teachers assume their skills are only of value within the framework of traditional teaching, but there is a list of careers in education that aren't teaching.
It has many niches that can benefit from their expertise, so if you're looking for jobs in education that are not teaching, this part of the list is for you.
Especially if you want to be more than a school administrator, career counselor, or guidance counselor. Here are just a few examples…
4. Educational Consultant
Your background in teaching provides you with a deep understanding of curriculum development, instructional strategies, and educational assessments. These are perfect prerequisites for an Educational Consultant role.
You have the knowledge and skills required to provide advice on best practices, instructional approaches, and pedagogy.
Not to mention, you understand the importance of staying up-to-date with new trends in education and have the ability to craft effective solutions for teachers, administrators and students.
With your excellent communication skills, you can also evaluate needs within a school district or organization quickly and accurately.
Education Consultant Advantages: With experience in setting SMART goals for students, former teachers can effectively guide clients in developing realistic strategies and objectives.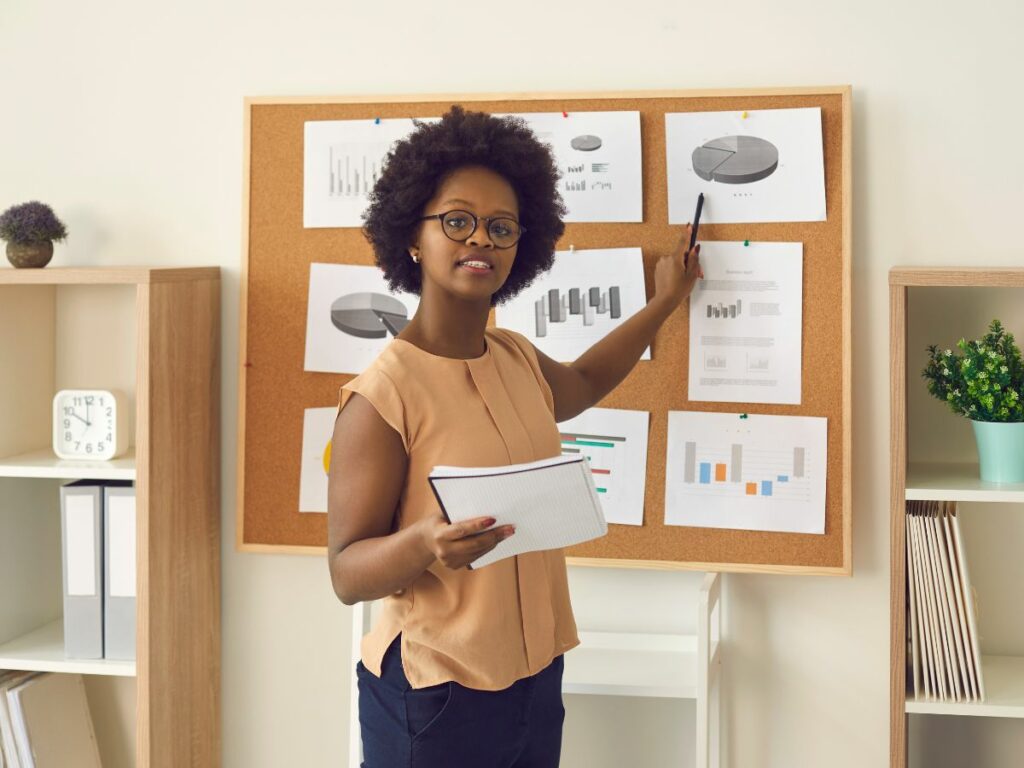 5. Curriculum Writer
Having extensive experience in formulating detailed lesson plans and expertly designing comprehensive curriculum materials not only showcases your exceptional expertise but also positions you as an ideal candidate for a Curriculum Writer.
Your ability to create engaging educational resources, tailored to meet learning objectives, will contribute to the success of educational institutions.
In this role, you will have the unique opportunity to leverage your vast knowledge and creative skills to shape the educational landscape, empowering learners and educators alike with innovative and effective curriculum content.
With your dedication and passion for education, you will play a vital role in nurturing the minds of future generations and positively impacting the educational journey of countless students.
Curriculum Writer Advantages: Becoming a curriculum writer gives you the freedom to balance your other commitments while earning money in an enjoyable way.
6. Lead Teacher
Teachers can also embark on a career progression journey that leads them to become Lead Teachers. In some school districts, Lead Teachers spend little to no time on classroom teaching because they are supervising others instead.
As Lead Teachers, they not only take charge of instructional design but also play a pivotal role in providing guidance and support to other educators within their team.
While their focus may shift from classroom teaching, the opportunity to impact education on a broader scale is invaluable.
By dedicating their expertise to shaping effective instructional strategies and mentorship, Lead Teachers contribute significantly to the growth and success of their fellow educators.
Lead Teacher Benefits: Lead Teachers are in a unique position to not only share their knowledge and experience with students but also benefit from the opportunity.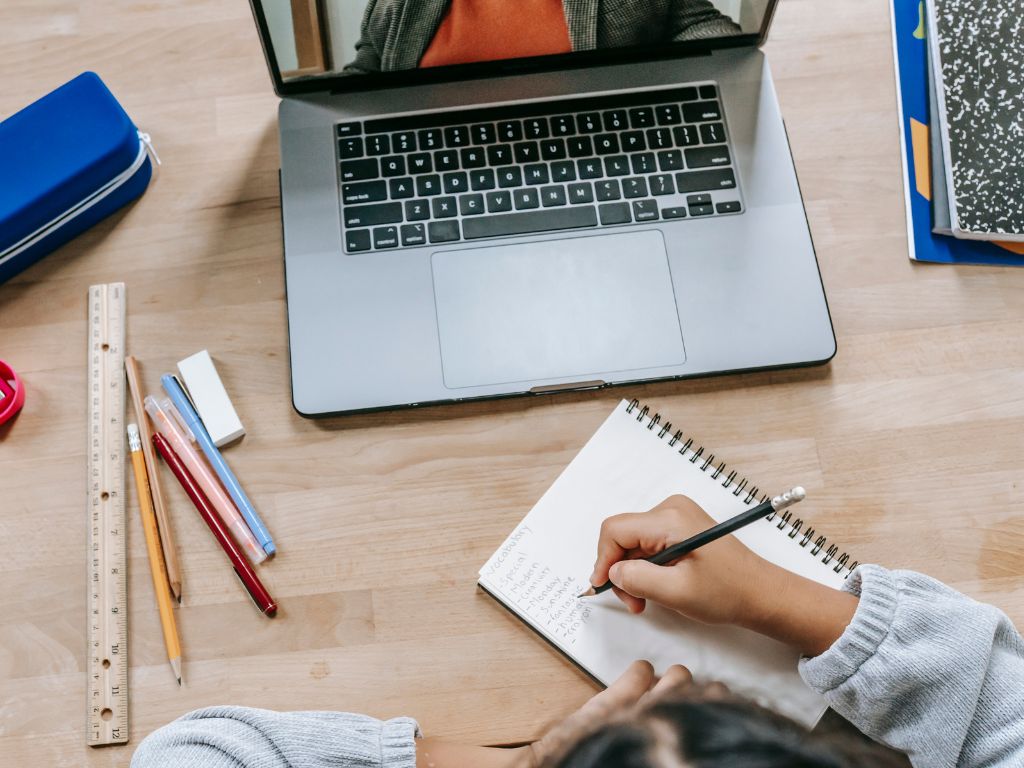 7. Test Scorer
As a Test Scorer, your deep understanding of grading rubrics, assessment techniques, and proficiency in evaluating standardized tests sets you apart.
With your invaluable skill set, you become a trusted partner for esteemed exam boards, including IELTS, and revered educational institutions across the globe.
By leveraging your expertise, you play a vital and influential role in ensuring fair, accurate, and comprehensive evaluations.
This ultimately shapes the academic journey and future prospects of countless individuals, opening doors to new opportunities and empowering learners to achieve their full potential.
Test Scorer Benefits: Being a Test Scorer means you get to work from home and set your own schedule, so you can be available for family events while still making a living.
8. Writing Assistant
Other jobs for teachers who have specialized in teaching writing skills can provide valuable assistance to other individuals seeking to enhance their writing abilities.
These highly knowledgeable educators can lend their expertise as editors, helping to refine and polish written works or offer guidance as writing coaches, supporting and mentoring aspiring writers throughout their creative journeys.
With their guidance, individuals can develop a deeper understanding of writing principles and improve their overall writing proficiency.
Writing Assistant Benefits: Being a writing assistant can be a great way to make money on the side or even as a full-time job. Plus, writers gain a variety of valuable transferable skills!
9. Instructional Designer
Are you accustomed to designing successful classroom experiences? If so, you may excel in an Instructional Designer role as one of your ideas for jobs after teaching.
This opportunity allows you to leverage your comprehensive understanding of various instructional strategies, learning theories, and expertise in designing effective online learning modules.
By combining your skills and passion, you can create impactful and engaging educational experiences for learners worldwide. Join us and make a difference in the realm of online education!
Instructional Designer Benefits: Some Instructional Designer roles are purely virtual, too, so you can work from anywhere! Or your existing home office.
10. Preschool Director
If you have a deep passion for working with young children, coupled with a natural talent for effectively managing classrooms and educational settings, then being a Preschool Director can be an incredibly fulfilling and rewarding career move.
As a Preschool Director, you will have the opportunity to create a nurturing and stimulating environment for children to thrive in, while also spearheading initiatives to promote their holistic development and academic growth.
It's one of the great jobs for primary teachers. Your expertise and guidance will not only shape the lives of the young minds under your care but also have a profound impact on the families and communities you serve.
Preschool Director Benefits: Becoming a Preschool Director means you can create an enriching learning environment for young children while managing instead of teaching.
11. Teaching Materials Developer
For individuals who possess a creative streak and a passion for education, exploring the world of designing and selling teaching resources can offer a deeply gratifying and potentially lucrative endeavor.
From crafting meticulously curated lesson plans and engaging worksheets to developing interactive educational games, there are myriad avenues to channel your creativity and contribute to the learning experiences of students worldwide.
Teaching Materials Creator Benefits: Embrace the opportunity to make an impact while indulging your entrepreneurial spirit! And it combines well with other non teaching jobs teachers can do other than teach.
Through these roles, you can drastically broaden your horizons within the education sector itself. You can continue doing what you love, but with a little twist and turn. It's all about using what you already know in new and innovative ways!
Corporate Jobs Teachers Can Do Other Than Teach
Teachers are not just educators; they are leaders, communicators, and managers. These are skills that are in high demand in the world of for profit organizations.
Many teachers' job searches result in satisfying jobs for a teacher in the business sector, where they can leverage their proven abilities to manage, organize, and inspire. Sometimes just having a teaching degree is enough.
12. Executive Assistant
Being an Executive Assistant demands exceptional multitasking and organizational skills, both of which teachers excel at due to their expertise in managing classrooms and maintaining order in a vibrant environment.
And, teachers' aptitude for effective communication makes them well-suited for remote support to executives, where the ability to clarify and articulate tasks with utmost precision plays a pivotal role.
Not to mention, there are a lot of growth opportunities for Executive Assistants. With the right experience and training, you can become a highly valuable asset to any organization.
It's an exciting field to explore and is sure to keep you engaged. Plus, it could lead to more in-depth roles with higher pay and responsibilities.
Executive Assistant Advantages: They tend to have a comprehensive view of the working of an organization and often have chances to move up the corporate ladder.
13. Transcriber
In the business sector, where precise communication is of vital importance, any form of miscommunication can lead to severe misunderstandings that could have serious consequences.
That's why skilled transcribers are invaluable. Especially transcribers with foreign language expertise who can also translate.
Teachers, with their strong listening and comprehension skills developed through years of education and experience, are particularly well-suited for this role.
Their ability to transcribe audio or video content into a written format in the most accurate and consistent manner is unparalleled.
By leveraging their exceptional attention to detail and linguistic expertise, they play a crucial role in bridging the gap between spoken words and written documentation, facilitating effective communication in the business world.
Transcriber Advantages: This job provides the flexibility to work from home and manage your schedule.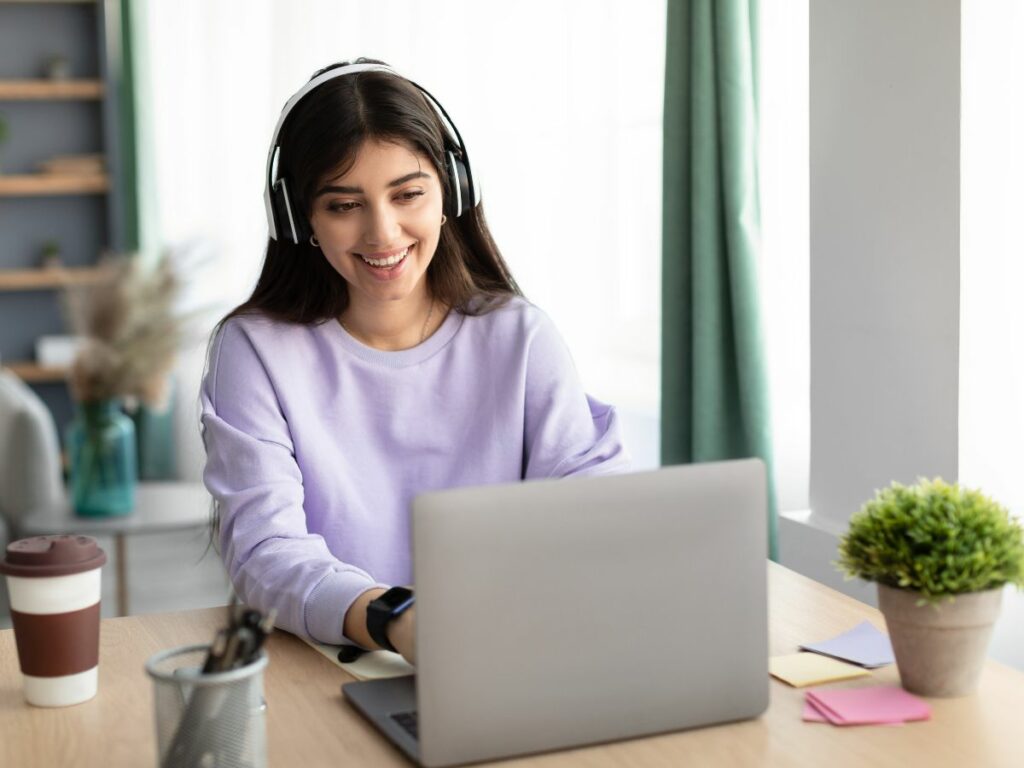 14. Human Resources/Corporate Trainer
Teachers are great at forming relationships and managing communities. They have strong communication and organizational skills, as well as the ability to think on their feet and adapt quickly.
In addition, they often possess a wide range of subject knowledge, giving them an understanding of how to teach different concepts in various ways.
These same qualities can easily be transferred over to human resources and corporate training – especially in terms of developing relationships with employees, providing clear communication, and effectively organizing training sessions.
Furthermore, teachers can use their subject knowledge to create engaging corporate trainer programs that suit the industry or company's needs.
Human Resources Advantage: There are so many niche paths within corporate training and Human Resources that you can always adapt your career to suit your interests.
These alternative careers for teachers are proof that the skills teachers possess are applicable and transferable to a myriad of roles.
Based on our own experiences, the transition from a teaching environment to a corporate one can be smoother than one might expect.
Unconventional Jobs Teachers Can Do Other Than Teach
Apart from education and training roles, there are numerous unconventional fields where teachers can apply their inherent skills.
A teaching background offers not just educational expertise but also communication, creativity, and leadership abilities that are well-suited to a variety of jobs that might not traditionally attract educators. Let's explore some of them.
15. Museum Archivist or Curator
Teachers who possess a deep passion for history or art may discover that transitioning into the role of a Museum Archivist or Curator is an ideal progression.
This captivating position entails not only managing precious collections of artwork and historical artifacts but also ensuring their accessibility to the public.
It is an opportunity that harmonizes seamlessly with teachers' proficient research and organizational skills, further accentuating their innate inclination to share knowledge.
In particular, history teachers, art teachers, and art history teachers should definitely consider this career change, which promises an enriching and fulfilling journey in the realm of museums and cultural heritage preservation.
Museum Archivist or Curator Advantages: The job offers an opportunity to work within one's area of interest and make a significant contribution to preserving cultural heritage.
16. Editor
Teachers, with their years of experience meticulously checking students' work for errors, possess exceptional language and grammar skills.
These skills, combined with their keen attention to detail, make them invaluable in an editing role.
Whether it's for a prestigious publishing house, a renowned corporation, or as freelance professionals, teachers can easily make a successful transition to becoming skilled Editors.
They excel in proofreading and refining written content to absolute perfection, ensuring that every word is meticulously crafted for maximum impact.
The precision and dedication they bring to their craft is unparalleled, making them true masters of the written word.
Editor Advantages: Editors often get a chance to work on diverse projects and it can be a satisfying job for those who enjoy perfecting content.
17. Social Worker
A teacher's skill set includes the ability to assess problems, provide support and resources for those in need, and construct plans of action, all of which are essential elements of social work.
And, teachers are adept at forming relationships with others and building trust with their students.
Both of these are qualities that are integral to successful social workers, especially teachers with a special education background. Including those that specialize in substance abuse.

Though some teachers may possess all the necessary requirements to become a social worker, most will require additional education or training before they can gain licensure.
Many universities offer higher education programs that specialize in the transition from teaching into social work and provide students with the knowledge they need to become successful in this field.
Social Worker Advantage: Social workers empower individuals and communities, offering support, solutions, and resources. With job security and growth potential, it's a fulfilling and promising profession.
Remember that every job is different and will offer different opportunities for growth and development.
While these are less traditional roles for teachers, they offer unique ways to apply and invest the skills gained from a teaching career.
FAQs for Jobs Teachers Can Do Other Than Teach
Do you still have questions about jobs teachers can do other than teach? Here are answers to some frequently asked questions about careers after teaching.
Can Teachers Transition to Corporate Roles Easily?
Yes. Teachers often possess key skills demanded in the corporate world, such as effective communication, intricate organization, and multitasking abilities. These can be translated into corporate roles like being an Executive Assistant.
How Can Teachers Benefit from Online-Based Opportunities?
Online-based opportunities allow teachers to work remotely and provide resources and interaction almost identical to a traditional classroom.
For instance, as a Blogger or an Online Tutor, teachers can leverage their knowledge and skills without the constraints of a traditional workplace.
Are There Opportunities for Teachers in the Field of Art and History?
Certainly. Teachers with a passion for art or history can explore positions for teachers like a Museum Archivist or Curator, taking advantage of their research skills, organization skills, and love for these fields.
What Skills Do Teachers Need to Work as Writing Assistants or Curriculum Writers?
As teachers regularly teach writing skills and design curriculum materials, these experiences readily equip them for roles as writing assistants or curriculum creators.
Their understanding of instructional strategies also contributes greatly to these jobs for teachers outside of education.
What can I do with a teaching degree if I don't want to teach?
A teaching degree offers diverse career opportunities beyond the classroom.
From social work and educational consulting to instructional design and museum curation, the skills gained from teaching are valuable across various industries like marketing and healthcare.
Are you seeking certification for teaching English?

If you are or want to be an online ESL tutor, then certification is required by many companies & desired by many private clients.

👉 We recommend this TEFL course! They even offer post-completion job support and resources.
Final Thoughts on Jobs Teachers Can Do Other Than Teach
Throughout this article, we have journeyed through a host of unique career after teaching options that teachers can undertake beyond traditional classroom teaching.
There are numerous other careers for teachers within the education sector beyond classroom teaching, such as being an educational consultant, a curriculum writer, or a preschool director.
Today's digital age offers a wealth of online-based opportunities like blogging, online tutoring, or being a writing assistant.
Teachers' skills are easily transferable to the corporate and business sectors, and even more unconventional jobs for teachers outside the classroom.
In all these avenues, the unique combination of skills and knowledge teachers possess is extremely valuable.
Thus, regardless of whether you're an educator seeking new opportunities or just examining the horizon, remember that the scope of what you can accomplish is as wide as your imagination allows.
Happy planning!